Expansion plans announced for a second North Phoenix fab
By Karen Goveia
[email protected]
By 2024, the first batch of cutting-edge silicon chip wafers designed to power the latest electronics, including Apple's phones, computers and other devices, will be produced in North Phoenix.
Just 20 months into construction on TSMC's massive semiconductor plant on the west side of I-17 between Loop 303 and Carefree Highway, the global chipmaker has already begun construction on a second fabrication plant on the same site, promising to produce even more advanced chip technology.
The announcement of a second facility came during a ceremony last month marking the arrival of the first batch of semiconductor manufacturing equipment to the facility.  
---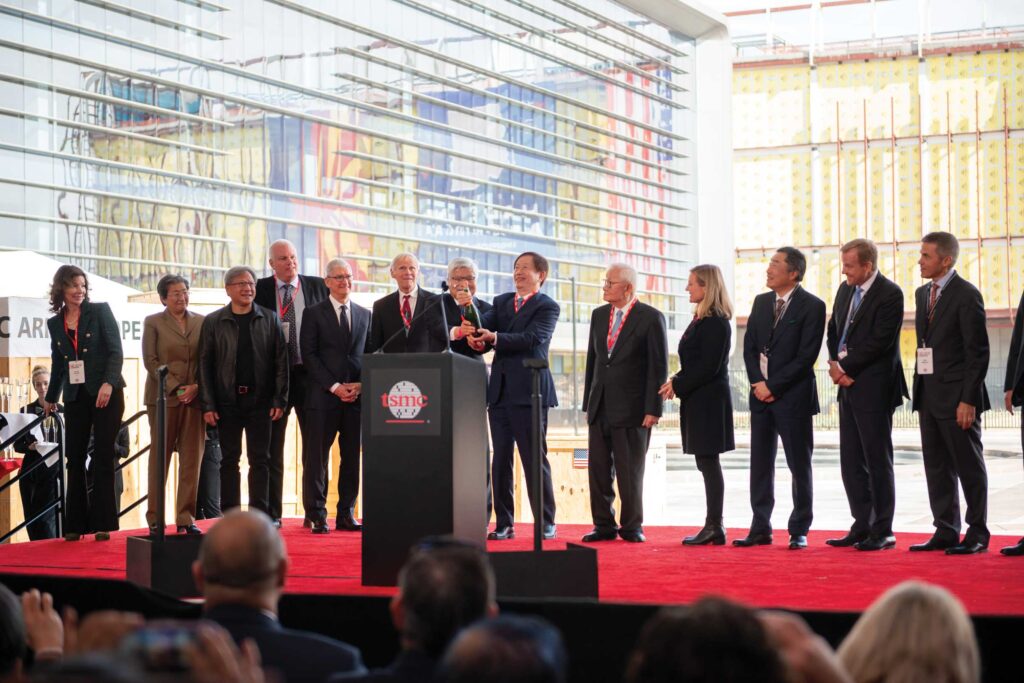 ---
At the Dec. 6 ceremony, along with a special visit from President Joe Biden, TSMC welcomed local and state leaders, including Gov. Doug Ducey, Governor-elect Katie Hobbs, Phoenix Mayor Kate Gallego, U.S. Sen. Mark Kelly, employees, customers and journalists to see its new factory and discuss the company's investment in U.S. manufacturing, which just increased from $12 billion to $40 billion in its Arizona operations. 
The first fab is on track for completion in 2024, producing 4-nanometer chips, and the second fab will crank out even more cutting-edge chips at 3 nanometers when construction is complete in 2026. In total, the two plants will be capable of producing 600,000 wafers annually.
"We're well on our way to bringing the most advanced semiconductor manufacturing technology in the United States, right here in Arizona," TSMC's Chairman Mark Liu said during the ceremony marking the construction milestones by the chip giant.
Phoenix Mayor Kate Gallego also spoke at the event, noting that TSMC had already made the decision to invest in the Phoenix site prior to the passage of the CHIPS Act, and now with that federal support, TSMC is tripling its investment, making it the largest foreign direct investment in state history.
Top tech leaders from Apple and NVIDIA were among the visitors at the Phoenix plant stating their intent to source chip wafers from the new fabrication plants to power the latest iPhones, iPads, Macs and graphics processors. 
---
"The innovation in Apple silicon has transformed our devices and we are proud to become TSMC's largest customer at their new Arizona site…

Tim Cook – Apple CEO
---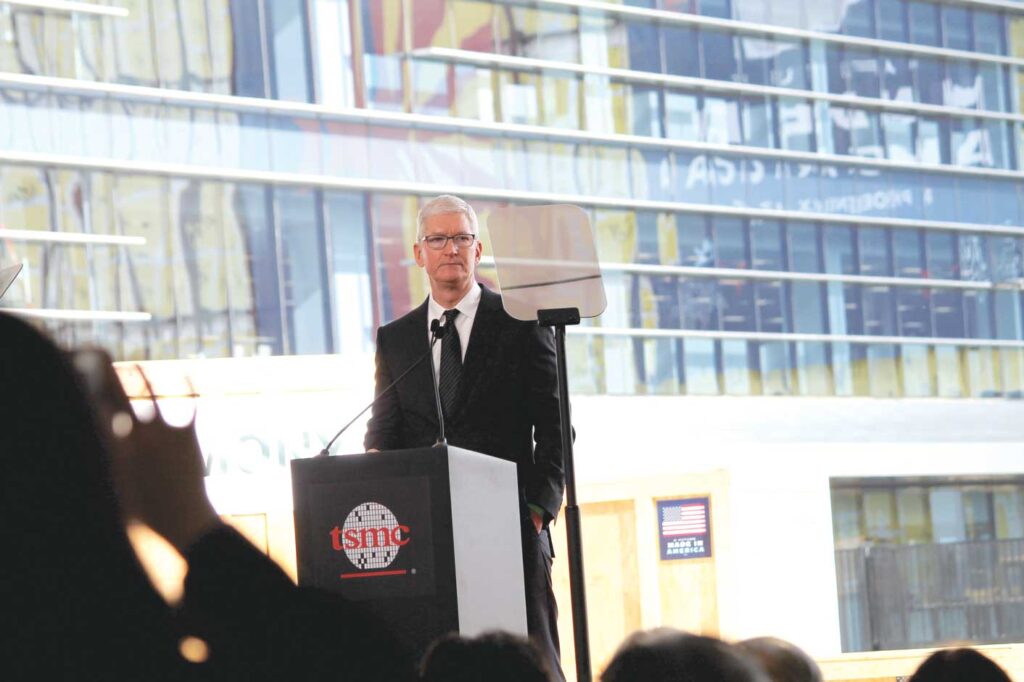 ---
Apple CEO Tim Cook described TSMC's investment as "an important milestone for advanced manufacturing in America." "The innovation in Apple silicon has transformed our devices and we are proud to become TSMC's largest customer at their new Arizona site," he said at the event.
NVIDIA founder and CEO Jensen Huang also spoke, saying "Bringing TSMC's investment to the United States is a masterstroke and a game-changing development for the industry."
TSMC purchased 1,128 acres of state trust land in December 2020. The acreage is poised to become part of North Phoenix 3500—a master-planned employment district anchored by a giant semiconductor plant—the catalyst for future commercial development between Carefree Highway and Loop 303, just west of I-17. 
---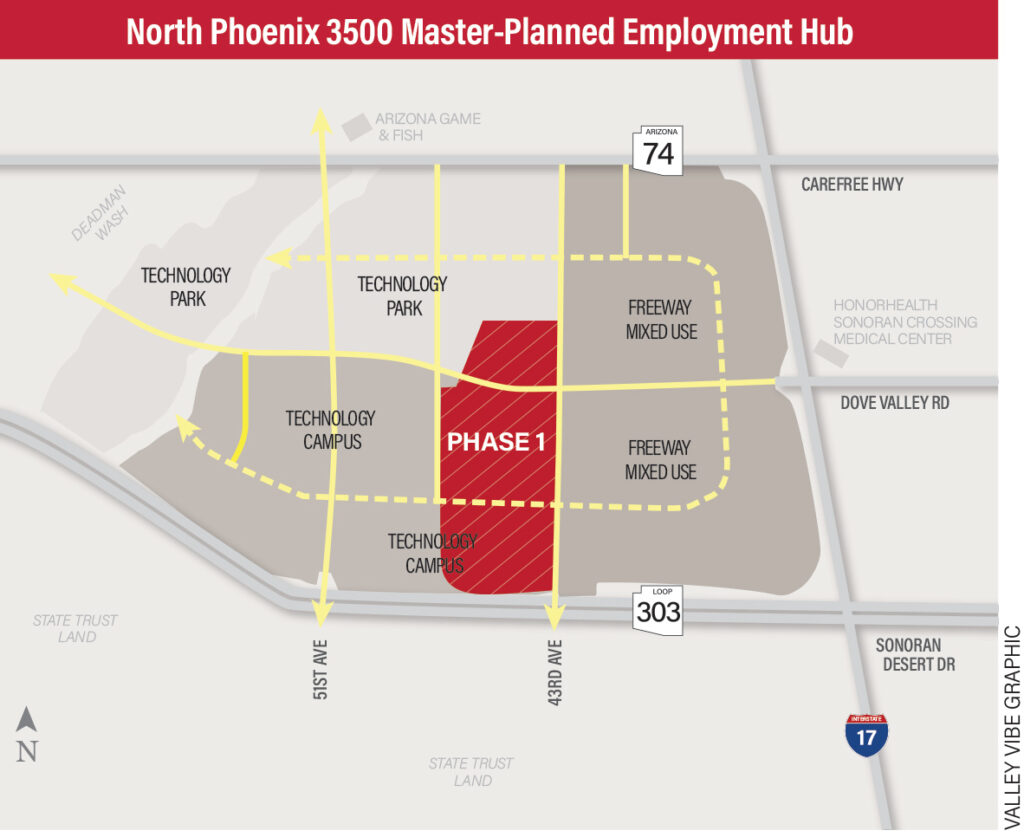 ---
"When you think Price Corridor [in Chandler] or you think Silicon Valley, that's how this area will develop out," Phoenix Economic Development Director Christine Mackay told Valley Vibe in an early 2021 article.
Phoenix City Council approved rezoning 3,500 acres in October 2020 to allow for construction of the fabrication plants and to prepare for future development of the mixed-use employment hub.
The overall vision for North Phoenix 3500 includes plans for commercial buildout of a business commerce park, as well as commercial developments including retail, hotels and office buildings along the eastern portion of the property bordering I-17.
The site will be accessible from I-17 at both Dove Valley Road and Carefree Highway, according to plans filed with the City of Phoenix. Two future Loop 303 freeway interchanges are also planned at 43rd and 51st Avenues.
Together, the two fabs are expected to create 10,000 high-tech and high-wage jobs, 4,500 of which will be direct TSMC jobs, as well as more than 10,000 construction jobs.