By Karen Goveia
More than 77 percent of consumers believe it's more important than ever to support small businesses this holiday season, according to a report from American Express released in October.
Consumers are shopping more thoughtfully and recognizing that local businesses create character within the community, adding to the diversity of products and services available to area residents.
And when we choose to shop locally, money spent is more likely to be kept in the community, as locally-owned businesses often purchase from other local businesses and service providers. The U.S. Small Business Administration estimates that for every $100 spent at a small business, $48 stays in the community. The same money spent at a big-box store or national retailer, only $14 stays.
Anthem Area Chamber of Commerce Director Tamara Clark Anthem told Valley Vibe the Anthem and surrounding area has an abundance of small, locally owned businesses, and in the Chamber alone about a quarter of its 230 members are home-based businesses.
"Shopping locally keeps the money here in our community which is what keeps our non-profits afloat and our youth programs up and running. So when you want to shop Amazon or Etsy for a unique trinket or idea, ask someone, because odds are, there is someone closer than you think who does it out of a small room in their house," Clark said.
The area is also ripe with service-based businesses. "You need to start construction on a house and aren't sure who to call for the numerous jobs that might entail, you could throw a rock and hit a company here in town that offers the services and labor you are looking for," Clark added.
That in mind, this holiday season offers an opportunity to continue to help the North Valley community grow and thrive, enriching residents' lives by supporting local businesses when shopping for more personalized and unique gifts, as well as experiences and services needed for the home.
Business Spotlights
These new businesses make shopping local easy for those unique, one-of-a-kind gifts.
Retail Therapy AZ
4250 W Anthem Way Suite 105
Anthem, AZ 85086
480-616-8570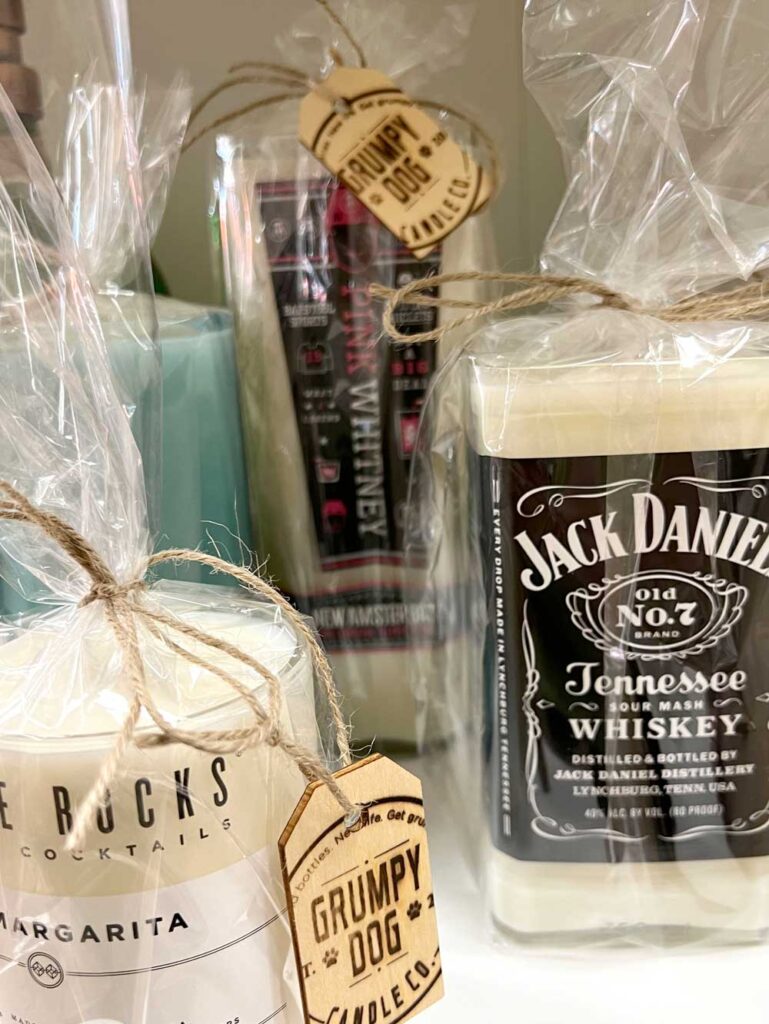 A new boutique for local business owners to market their handcrafted products in a storefront location opened in the Outlets at Anthem, just in time for the holiday shopping season.
Erica Jerido and Jacque Thomas opened their first storefront location six months ago in Glendale and that shop features items for sale from 76 artisans from around the state, including health and beauty products, candles, custom woodwork pieces and other gifts.
Just a week after signing their lease for a second location in the Outlets at Anthem, Jerido said 40 vendors had already signed on to have their goods for sale in the store, located near Calvin Klein, and there's plenty of space for additional vendors to join.
The concept is simple: local businesses rent out a section or a display to host their merchandise, but unlike a farmer's market, they are not present to sell their goods. They are allowed to provide signage and marketing info about their business so that customers may contact them directly for custom-made pieces, etc.
"It's the perfect platform for those who can't afford to open up a store for themselves," Thomas said.
As former vendors selling merchandise and clothing themselves, the pair quickly realized they enjoyed the connections with other vendors and that their passion lay more in the realm of hosting events and markets.
"We watched these markets grow and we thought, 'what if we were able to create create a storefront for businesses to permanently reach the community,' " Jerido said.
As of this writing, here is a list of the vendors that have agreed to lease space, with more vendors coming soon.
Bellaz Bolsas Boutique
Secret Desert Soapworks LLC
Upscale Freeze
Grumpy Dog Candles
Desert Dwelling Darling
Pure Lotus Scents
Kaydee's Kandles
The Righteous Tone
Uniquely Frosted
Cop Crafts
Belle Street
Whole Harmony
Sassy & Classy Designs
Desert Roots Design Co
Remi Rae Creations
AZ Wild West Preserves
Ksparks Custom Designs
FancyPoshAccessories
Barkasy Creations
Bee Barzzz
Twisted Bee Farms
Crazy Plant Lady Gifts
Pink Cactus Designs
Desert Moon Collective
Natural Minx
The Desert Sticker Company
On My Grind (OMG) Wood Designs
Made With Love
The Kings Craft by Tarrae
Francis and Bee's PETS
Branche Basu Boutique LLC
HatsNThingsByShelly
2 Impress You LLC
Headbangers Beard Co
Alada Decor
Spelled With Love Crafts
Nhyiraba Art Shop LLC
Weekly Vendor Market
In addition to the storefront at the Outlets, Jerido and Thomas host a weekly market at the Outlets on Saturday evenings from 4-8 p.m. in the outdoor courtyard, just south of the food court. The market, called Small Business Saturdays, serves as another platform for local vendors to be present and sell their goods in a market setting. Baked goods are available for purchase and plenty of activities for the kids.
Interested vendors can email [email protected] or visit www.retailtherapyaz.com for information on how to join.
KC's Home Fragrances and Crystals
3120 W Carefree Hwy Suite B7, Phoenix
www.kcshomefragrances.com, 480-318-1025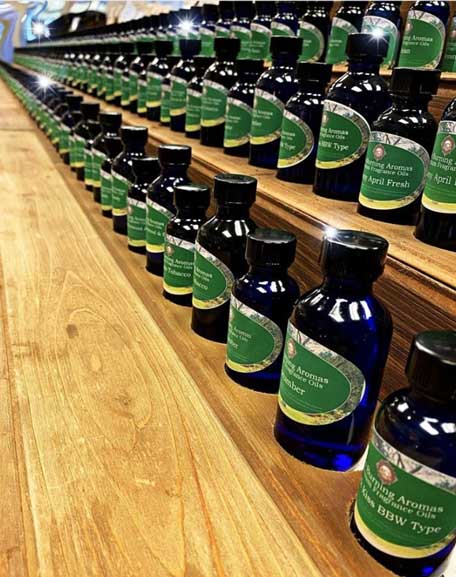 This family-owned and operated boutique, is the newest store in the Tramonto Marketplace, located next to Subway.
They offer a large selection of natural crystals sourced from Brazil and Madagascar. They have zodiac jars with crystals that line up with your astrological sign as well as crystal trees to decorate your home or office with. Individual crystals are available from the store's tumbled bins, including amethyst, malachite, tiger's eye, rose quartz and more. If you're new to crystals, guides are available. To cleanse your crystals, moon water, brown rice, and sage can be purchased.
When you enter the boutique, you'll notice the main feature is a Fragrance Oil table with over 100 different choices. Local favorites are Aquolina Pink Sugar, Exotic Oud Wood, Hawaiian Rain, Lavender and more. Fragrance Oils are blended locally, and can be used in your diffuser and they have many to choose from. A selection of designer touch-based electric warmers is offered with wall plug-ins that all of their fragrance oils can be used with to accent your home. In addition, a large selection of 100 percent natural and certified essential oils are available. The atmosphere is warm, inviting and makes you feel right at home.
Rusty's Angels Boutique
42407 N. Vision Way, Suite 107, Anthem
www.rustysangelssanctuary.org, 480-250-0251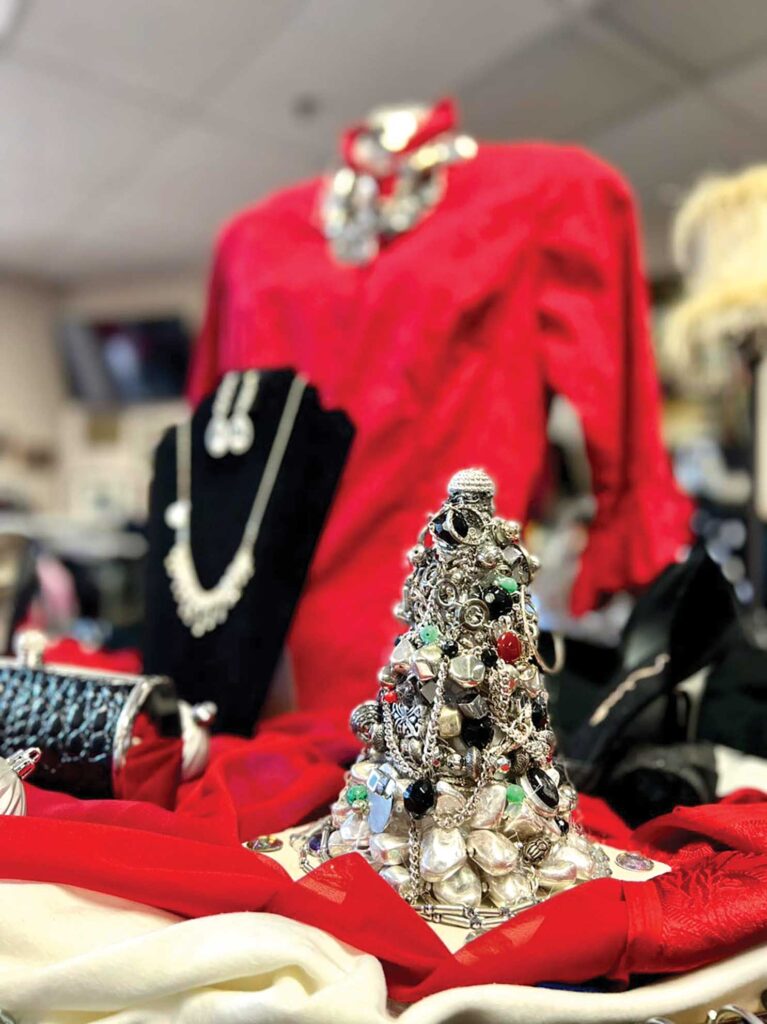 This second-hand shop sells decor and gift items in a boutique setting. The shop recently reopened in the Anthem Commerce Park.
Sales help benefit Rusty's Angels Sanctuary, a nonprofit organization dedicated to providing a safe and caring environment for senior and special needs canines.
Sunset Cyclery
42407 N Vision Way, Suite 113, Anthem
www.sunsetcycleryaz.com, 623-296-5915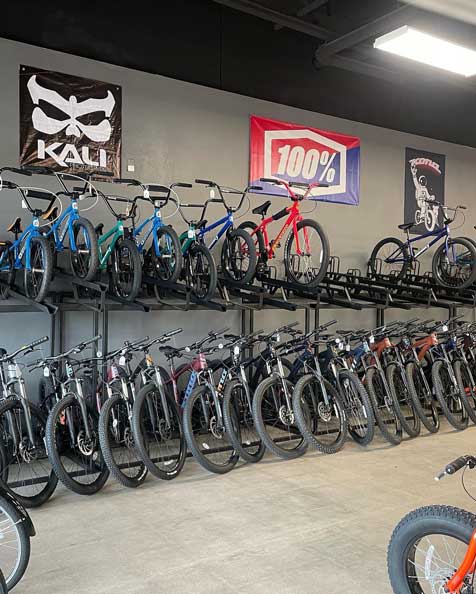 Anthem's bike shop, Sunset Cyclery, formerly located in the Ace Hardware Plaza has moved to a new location in the Anthem Commerce Park on the west side of the community.
The new space supports a larger inventory of both new and used bikes, electric bikes and scooters within the shop, as well as more space for its repair center.
More Area Stores to Shop Local
Beauty/Spa Services
Hand & Stone Massage and Facial Spa
39504 N. Daisy Mountain Dr. #102, Anthem
www.handandstoneanthem.com, 602-730-7431
Massage therapy, facials and hair removal services. See promo page tk.
Pleasantly Plasma
Located off Carefree Highway in North Phoenix
www.pleasantlyplasma.com, 480-980-4037
Plasma Pen fibroblast skin tightening treatments.
Clothing/Dress Wear
Phenom Couture
3434 W Anthem Way #160, Anthem
www.phenom-designs.com, 208-760-0401
Custom couture and dresswear, locally made fashion accessories and hand-crafted products.
Posh North Boutique
2480 W Happy Valley Rd #1202, Phoenix
www.poshnorth.com, 602-369-0203
Contemporary ladies apparel, shoes and accessories. Located in the Shops at Norterra.
Swankys Boutique
4215 W Anthem Way #112, Anthem
www.shopswankys.com, 623-465-3223
Apparel, designer denim, shoes and accessories.
The Dress of Anthem Bridal and Eveningwear
3668 W Anthem Way C-170, #3, Anthem
www.thedressofanthem.com, 480-388-2378
Bridal, evening wear, casual dress wear, fashion accessories. Hours by appointment only. Located Radiant Beauty Suites.
Craft Beer
Simple Machine Brewing Company
701 W Deer Valley Rd STE 1, Phoenix
www.simplemachinebrewing.com, 623-469-9199
Packaged craft beer to-go and gift cards to the taproom. Gift card promo: Buy a $50 gift card & get a bonus $20 gift card, buy a $25 gift card & get a bonus $10 gift card. Promo is valid through Dec. 24.
Floral
Poppies Flower Shop
2450 W Happy Valley Rd #1147, Phoenix
www.poppiesflowershop.com, 480-649-7100
Fresh stems and arrangements, potted plants, classes and monthly floral subscriptions.
Games/Toys/Books
Bricks 'n Minifigs
1730 W Happy Valley Rd Suite 106, Phoenix
www.bricksandminifigs.com, 602-919-6284
New and pre-owned Lego sets, bulk bins, minifigures and accessories. Buy, sell and trade.
Meeples & Beyond
2470 W Happy Valley Rd #1182, Phoenix
www.meeplesbeyond.com, 623-248-0075
Board games, collectible card games, booster packs, decks, accessories, gift cards.
Health & Wellness
Abundant Life Force AZ
3668 W Anthem Way Suite C-170, #6, Anthem
www.facebook.com/Abundantlifeforeceaz, 623-401-3159
Supplements, including sea moss, hemp, ashwagandha, elderberry, as well as vitamins, organic teas, herbal shampoo, shea butter, bath bombs, salts and bath bars. Located in Radiant Beauty Suites.
Home & Garden
Aloha Irrigation
www.alohairrigation.com, 623-203-7717
Irrigation installation, replacement, maintenance, landscape, lighting, and sound.

Arizona Outdoor Lights
Serving Valleywide
www.arizonaoutdoorlights.com, 480-535-7676
Permanent outdoor LED lighting for residences and commercial businesses.

SonoranScapes
www.sonoranscapes.com, 602-962-8132
Artificial turf, pavers, travertine, lighting, landscape construction and maintenance, irrigation services, and monthly maintenance. Promo: See page 3 for 10% off special offer off turf.
Jewelers
Andrew Z Diamonds & Fine Jewelry
3655 W Anthem Way C131, Anthem
www.andrewzdiamonds.com, 623-551-6892
Necklaces, pendants, bracelets, rings, earrings, watches, engagement rings, jewelry repair, custom design and gold buying.
Braidy Jewelers
2450 W Happy Valley Rd. Unit 1153, Phoenix
www.braidyjewelers.com, 623-581-3000
Custom jewelry design, engagement rings, necklaces, pendants, bracelets, rings, earrings, timepieces, jewelry repair and gold buying.
Wine
L'Entrata
41111 Daisy Mountain Dr., Anthem
www.lentratawine.com, 623-248-1727
Neighborhood wine bar and bottles to-go. Merchandise and wine club memberships available.
Gift certificates to independently owned coffee shops, local restaurants, fitness gyms and salons and for local services in our preferred business are another way to keep the community a vibrant place to live.