The highly-anticipated addition of a bridge at the crossing point of the Sonoran Wash over North Valley Parkway is in the City of Phoenix's future plans.
During heavy rains, Norterra area residents are quick to post updates on the road conditions along North Valley Parkway when the Sonoran Wash begins to flood the roadway.
When the flooding becomes too much, gates stationed north and south of the crossing along North Valley Parkway are closed so cars cannot attempt to cross the flood waters.
The City's Street Transportation Department said the bridge will span the crossing point of the Sonoran Wash over North Valley Parkway between Sonoran Desert Drive and Dixileta Drive.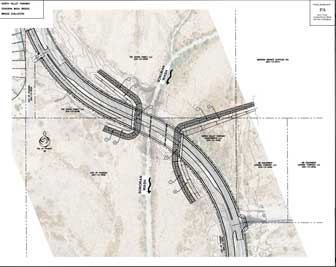 In 2021, the city commissioned a project assessment to determine the needs and costs associated with building the bridge. It is anticipated to cost $22 million in construction costs and will be funded through the development impact fees as part of the City's Infrastructure Financing Plan, according to a Street Transportation spokesperson.
"The department anticipates that this project will be added to the five-year capital improvement program by the end of the calendar year. We do not have a timeline for when construction would start, but it would likely be 2027 at the earliest," said Gregg Bach, a spokesperson for the City of Phoenix.
By Valley Vibe Staff Writers
Photo By Mark Fountain